FreeBike - mountain bikes rental in Kyrgyzstan.
FreeBike – bikes rental in Kyrgyzstan. Reliable bikes for exploring the beauty of mountain region.
We are glad to offer you bicycles for travelling over all Kyrgyz Republic. Our bikes with high safety margin are specially prepared for a long distance travelling. Our bikes are suitable for solo travelers, for cyclist groups, for travel agencies which provide services of organizing cycling and mix tours. There are high quality bikes from the famous manufacturers in our rental park. Now you shouldn't bring your own bike to cycle in Kyrgyzstan, you can hire it here. Also you have possibility to rent additional equipment such as rear rack bags, gas burner, tent, sleeping bag, SPD pedals and other.
Kyrgyzstan is a country with 94 % of mountain relief. All our bikes are suitable for difficult mountain conditions. We are pleased to offer you bicycles that will meet all your wishes and needs: simple and safe bikes with V-brakes, strong and comfortable bikes with disc brakes, downhill models and e-bikes!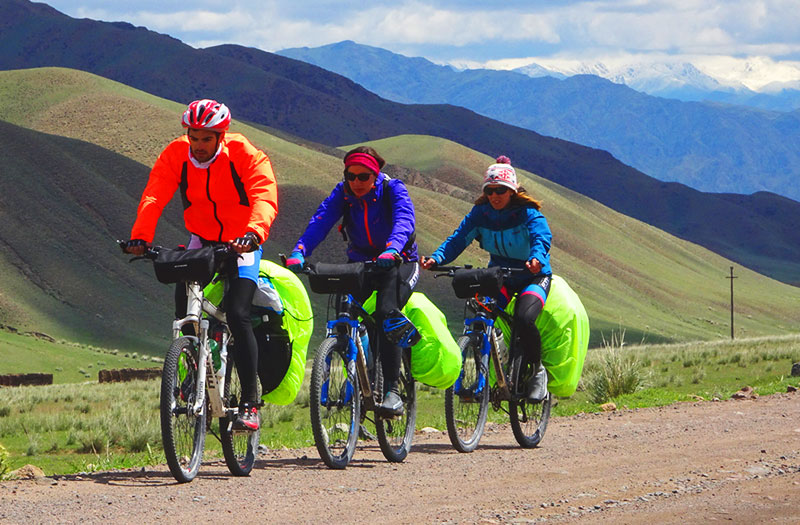 Our services
But we try to gather information on our web-site just to make your search easier. Here you will find our recommendation about travelling in Kyrgyzstan, information about visa support, approximately prices for transport services, accommodation and etc.
FREE
Rout Map
Interactive Map of Kyrgyzstan with
routes and pictures. Also useful links
about traveling in Kyrgyzstan.
View Details
Equipment Rental
All bikes are equipped with rear racks and completely prepared for a long distance travelling. Also we can provide you with pump, repair kit, spare chain, pedals, brakes, hex key and etc.
our Blog
November / 17 . 2021
Amazing pictures from our guests in season 2021
It is always a pleasure to get positive travel reviews from our guests.
We appreciate our guests for the wonderful pictures from their cycling in Kyrgyzstan.
November / 12 . 2019
Kel-Suu Lake created by the earthquake. Fantastic highmountain lake.
Highmountain Lake Kel-Suu created by the earthquake.

Kel-Suu is one of the little-known but beautiful lakes in Kyrgyzstan. It is located at an altitude of more than 3 thousand meters above sea level in an inaccessible area in the Kokshaal-Too mountains, near the border with China. The lake is 12 kilometers long, in the northern part it is completely surrounded by high cliffs, walks around the lake are limited.


November / 12 . 2019
Kyrgyzstan in 1900 year. Unique pictures of North of Kyrgyzstan.
Italian Prince Scipione Borghese in 1900 went on a trip to the Tien-Shan, together with the Swiss Matthias Tsurbriggen and compatriot Jules Brosherel. They crossed the north of present Kyrgyzstan, explored Enilchek valley (near Karakol) and left a rich heritage of unique pictures.